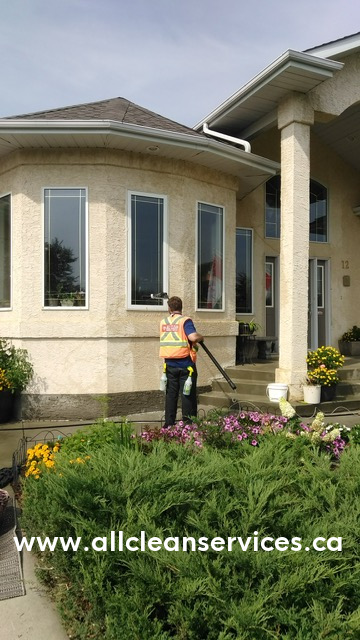 Wondering when is the best time to clean windows if you live in Edmonton ,Alberta and its surrounding areas?
In this article we will explore the factors to consider when choosing the ideal time(s) of the year to clean your windows.
Many home and business owners usually ask us ,"when is the best time to clean my windows?" My answer to them depends mostly on several factors because each home or business premise is unique.
We have customers who live or work next to a farm, others next to a busy highway and others next to a forest. Some customers, contact us initially requesting window washing services for a specific reasons.
Considering the above factors let's explore when you should clean your windows.
Annual or Occasional Window Cleaning
In Alberta we get long winters, and grime builds up on the windows .This is caused by the Fall leaves, Winter storms and early Spring rains. By the time Winter is gone all this dirt has formed a thick unsightly layer on the windows.
Springtime is a fantastic time for detailed window cleaning to get rid of such dirt on your windows. If you live near a forest or many trees it would be ideal to clean them after the pollen has been blown away. You will also enjoy the benefit of clean bright window all through summer.
The low chances of rain in the Summer, makes it also an ideal time to wash your windows if you prefer to do so once a year. The other benefit is that you can schedule a window cleaning job on a short notice because many homeowners are on vacations.
Fall is another great time to clean your windows depending on where you stay. Last Fall we cleaned one of our customers windows and when we went back in early spring ,they were still looking clean.
Special Events Cleaning
Some events are once in a lifetime and you want to experience the perfect ambience and create lasting memories. Call early to schedule a date and have the windows cleaned as close to the event date as possible. Such events include weddings, parties as well house blessing.
Post- Construction and Post renovation cleaning
After construction or renovation, there is so much dirt and dust that clings to the walls and windows. It is ideal to clean windows after all construction and area cleaning is done. This way, you will enjoy paint-free, glue-free, smudge-free clear windows.
Semi Annual Cleaning
We have some customers who live and work near a farm. In early Spring ,the farmers are preparing the farms for planting and as they till the land, a lot of dust goes up in the air. It makes sense to clean the windows after they are done planting in late Spring.
When harvest time comes, the farmer scatters dead leaves and dust in the air again .It is ideal to clean the windows in the Fall after the farmer has harvested the crops.
Quarterly Cleaning
If you live near a busy highway ,dusty roads, construction zone or you simply prefer to have clean windows all year long, scheduling quarterly window washing is the way to go.
Monthly Cleaning
This is mostly preferred by businesses because it gives them a professional image and creates a conducive working environment.