The windows look clean and bright. What do you use for cleaning the windows? This is a question we get so often from our customers after we clean their windows.
In this article I will respond to this question and explain how we clean the windows to perfection leaving no streaks or spots on them.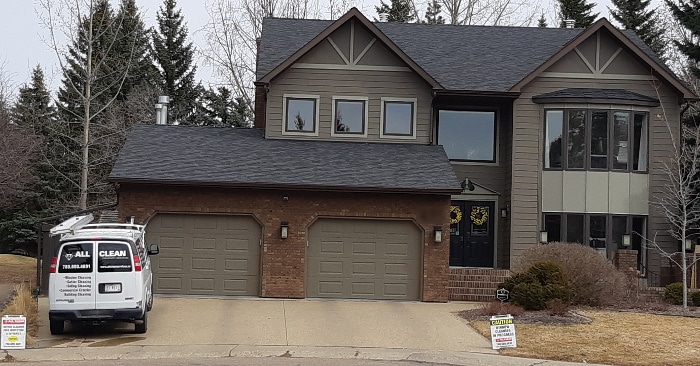 The process of cleaning windows for us at All Clean Property Services is a combination of passion for excellence in what we do and use of pure water and the latest cleaning technique.
How do we get pure water?
We use a reverse osmosis de-ionization process to purify the normal tap water and turn it into pure water. The purification process for window cleaning removes all mineral and dissolved solids in the water enabling it to evaporate without leaving any trace deposits behind. No squeegees or other drying techniques are needed for this spot free result.
Cleaning Process
To deliver the water to the windows ,it is pumped up through a telescopic pole with a tube inside the pole. At the end of the pole is a brush that has jets or spray nozzles embedded in it. We start by scrubbing the frames and sills. As the water comes out onto the surface area through the jets, the dirt is agitated by the scrubbing of the brush . The dirt is then suspended in the water, all set to be rinsed away by the consistent stream of pure water. The flowing pure water cleanses , leaving no residue or static on the cleaned surfaces. This enables the windows that have been cleaned with pure water method to remain cleaner for longer.
Safety and Care of Lawn & Flowers
The focus isn't just on the quality of the cleaning. All Clean Property Services technicians also take care of the lawn ,flowers and landscape of the home. They strive to not disturb or damage landscaping on the property. The poles we use go up to 60 feet, therefore it is not necessary use of ladders except for inaccessible areas. The cleaning technician mostly work on the windows while standing on the ground. This makes the pure water-fed pole method much more safer than other window cleaning techniques .
The next time you have your windows cleaned by All Clean Property Services, you now know that we are using pure water in the cleaning process, you are also getting quality workmanship birthed of the passion to excellence in what we do.