They use pure water fed technique for the outside windows and squeegee for the inside windows.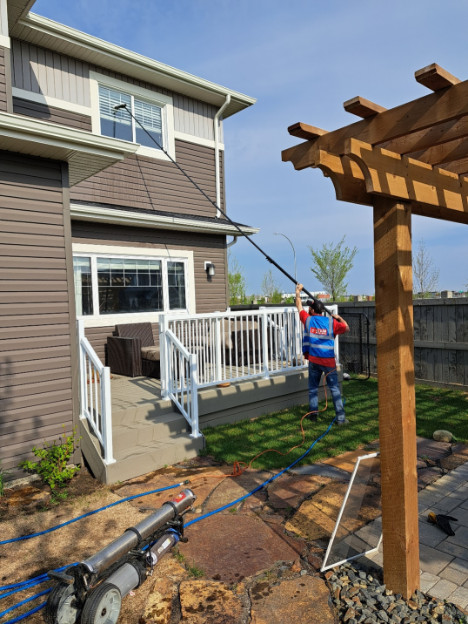 Window Cleaning in Aldridge Crescent, Sherwood Park
The use of pure water fed technique is the biggest contributor to the reason why professionally cleaned outside windows look clean and bright.
Where do they get pure water from?
At All Clean Property Services, we use a reverse osmosis de-ionization (See picture above) process to purify the normal tap water and turn it into pure water. The purification process for window cleaning removes all mineral and dissolved solids in the water enabling it to evaporate without leaving any trace deposits behind. No squeegees or other drying techniques are needed for this spot free result.
Cleaning Process For Outside Windows
To deliver the water to the windows, it is pumped up through a telescopic pole with a tube inside the pole. At the end of the pole is a brush that has jets or spray nozzles embedded in it. We start by scrubbing the frames and sills. As the water comes out onto the surface area through the jets, the dirt is agitated by the scrubbing of the brush. The dirt is then suspended in the water, all set to be rinsed away by the consistent stream of pure water. The flowing pure water cleans, leaving no residue or static on the cleaned surfaces. This enables the windows that have been cleaned with pure water method to remain cleaner for longer.
Cleaning Process For Inside Windows
For the inside windows, professional window cleaners prefer the traditional squeegee technique and water. We at All Clean Property Services add a few drops of dishwashing soap to the water help loosen the dirt and grime as we scrub the windowpane with a scrubber. We then use a squeegee to remove the water from the glass.
The next time you have your windows cleaned by All Clean Property Services, you now know that we are using pure water in the cleaning process for the outside windows and, you are also getting quality workmanship born out of the passion for excellence in what we do. 
You can expect our trained staff to arrive on time and organized throughout our entire service and they will leave every window clean and ready for you to enjoy the view.
Because of the above, we stay busy and will soon be booked up, so CALL NOW. 825-343-3394
Related Articles
Window Cleaning in Edmonton: What are the top benefits?
Residential Window Cleaning in Edmonton