How to get the best window cleaning prices in 2023.
Are your windows due for cleaning? Are you concerned about how inflation will affect the cost of cleaning your windows?
In this article, you'll discover how to get the best prices for washing your windows. You will also feel confident about the final price and choice of the service provider.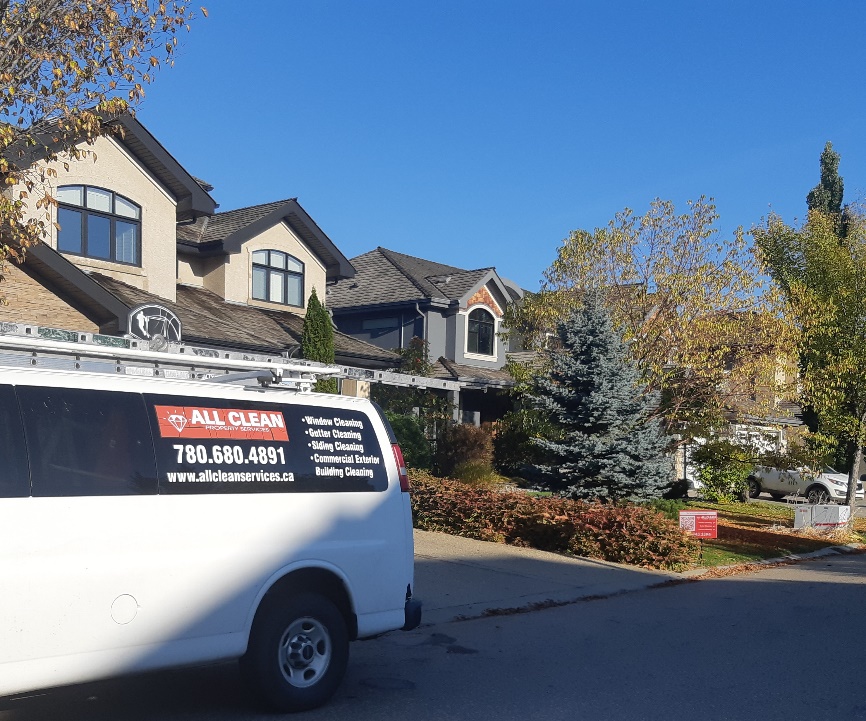 Window Cleaning In Edmonton (2023)
With inflation rising by 6.8% last year 2022, you are wondering, how do I get my windows cleaned at the highest quality of workmanship and at the best price ?
Provide This Information
Before you pick up the phone to call for a quote, it is important to note that there are two main ways in which window cleaning companies use for pricing the job.
Some companies price the job by the hour, other like All Clean Property Services price by the number of window panes in the property. The average value to clean a pane in Edmonton starts at $10 on one side (inside/outside).
Then be specific with the following information:
Which windows do you want done? The inside and the outside or either inside or outside only? If you want the outside only, ask if they clean the frames too. If you want the inside, ask if they clean the ledges too. Remember to ask if they clean the screens and how do they charge.
To get a more specific quote, provide the number of window-panes that are in your house or property. You can also give the size of your home in square feet.
Giving the correct street address and postal code of your property will help in getting the best price tailored for you. You will also get the best value in the current economic situation.
What to expect from the best
Now that you have provided this information, the company will either give you an estimate on the phone or they may drive to your property to give you the estimate. If it is agreeable with you, ask for a written confirmation of the price, date and time of the service. Ask questions to ensure that there are no hidden charges.
Find out if the company gives quality work guarantees.
Asking these questions will give you the peace of mind and ensure that your expectations are not only met but exceeded.
Getting the job done
Your home or property are valuable to you and regular window cleaning will ensure it stays beautiful and appealing for years to come.
For more than 9 years, our mission at All Clean Property Services has been to offer reliable, professional and thorough window cleaning, gutter cleaning and pressure washing services to more than a 1000 + homeowners in the metro Edmonton area. But the other companies say the similar thing, right?
At All Clean Property Services, we mean it! We are home to a team of professional and background-checked employees who can work around your schedule.
If your home is in serious need of thorough cleaning, our window, gutter and siding cleaning company can lend a hand. For exceptional and friendly service, our employees can help you in the following areas:
Edmonton, AB
St Albert, AB
Sherwood Park, AB
Stony Plain, AB
Spruce Grove, AB
We can proudly say that many of our clients have been with our window washing company in Edmonton, AB, since our inception in 2014. To understand why we have such a loyal and devoted client base and why we stay so busy year after year is to understand what makes us different, separating us from the competition.
Here are three of the biggest perks of our window and gutter cleaning company:
Guaranteed Estimate in 24 Hours or Dinner On Us*! Our estimates are usually same day or next day. *Guarantee: $15 gift card to a local restaurant of our choice.

5 Star Ratings & Reviews Commitment to excellence We are focussed on meeting or exceeding your expectations

First Time Customer? Take $35 OFF! And Beat the Inflation in 2023 Get Your Quote Fast Using Our Quick Estimate Form
Because of the above, we stay busy and will soon be booked up, so CALL NOW. 825-343-3394
Related Articles
How much does it cost to clean all windows in a house in Edmonton, Alberta?
Residential Window Cleaning in Edmonton