Many studies have proven that, cleaning your windows, home exterior, and gutters frequently, when the elements first start to appear, improves the value and appearance of your home and your family's health is well protected.
Below are some facts from these studies...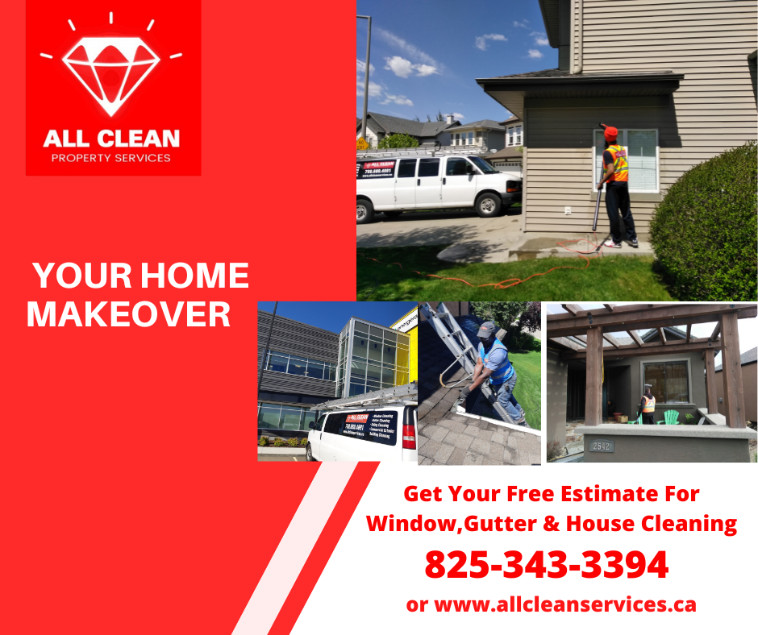 Window Cleaning in Edmonton
WINDOW CLEANING
Natural Resources Canada's Office of Energy Efficiency in one of their studies found that poorly maintained windows and doors can account for up to 25 percent of total house heat loss. Therefore, more energy use. Having dirty windows means less light passes into your home, and this leads directly to less space being heated by the sun, and more work for your HVAC system. By keeping your windows properly cleaned you can also enjoy the benefits of reduced energy bills over time because you will need to spend less electricity to make sure everything inside is at an appropriate temperature.

During the summer months, this same principle also applies at nighttime when your home is cooling off. Dirty windows can trap unwanted heat inside your home and create extra work for your HVAC system over time as well. Aside from reduced energy costs, cleaning your windows regularly can also have a noticeable impact on the workload of your HVAC system, which will enhance overall performance extending its service life.

At a 15% overall energy savings, you save money by getting your windows cleaned annually.

Keeping windows clean help keep Low-E coatings and Low-E insulation functioning as intended. Dirt particles that build up on your window lower your home's heating efficiency, so the dirtier your windows are, the less sun is able to penetrate and warm your home.
HOUSE WASHING
Each day All Clean Property Services removes pounds of dirt and algae off the surfaces of your neighbors' homes. It's on yours too! A home that's not regularly washed becomes an untreated mold problem to your property and is harmful to your family and pets. Mold and algae spread rapidly & feeds off moisture and organic matter wherever it can find it: these pests will creep down your siding, into your gutters, foundation, and attic, finding a way into your home.

Mold and mildew spores are migrating into your home, contaminating the air you breathe and creating an unhealthy environment for your family all of which are washed away by a house wash. If members of your family suffer from allergies, this is why!

The eaves, soffits, and the many cracks, crevices, on the exterior of your home are perfect little hiding places for spiders, mosquitos, stink bugs and all kinds of other creepy-crawlers. Once these tiny disease carrying vermin set up shop, they multiply, building nests. When the weather turns cold, they seek shelter indoors, and they WILL find a way into your home.

Many DIY homeowners will strip and dent their homes and decks in an attempt to save money. The most common mistake is applying too much pressure – this will dent your vinyl siding, stucco, and hardy plank. Best to use a trained professional.

Mold damages painted surfaces causing big repair costs.
Then your entire home is infested with these unwanted guests! And it all started on the exterior of your home.
GUTTER CLEANING
Roof shingles that come in contact with water in your clogged gutters will deteriorate sooner than the rest of your roof. Then the roof deck becomes damaged. If undetected, insulation gets wet and water gets into your home. You end up with water damage in your ceilings and walls.

87% of all mold starts in the gutters. Cracks in the home exterior (fascia, soffit, siding, stucco, etc.) allow water inside, which is another way your home can sustain water damage and fueling the spread of allergens.

Whether you have a crawl space, slab or basement, overflowing gutters eventually damage your home's foundation causing foundation shift, cracks and buckling. Standing water can deteriorate structural piers in a home in a crawl space.

Standing water is a breeding ground for mosquitos and other pests. Rodents may find the water, and critters that eat mosquitos will be drawn to your home.
…And Consider This!
More than 160,000 people visit the ER for ladder fall injuries and 300 prove fatal.

Ice dams in the gutter weigh heavy. This causes harm to your homes' gutter system, pulling it away from the roof causing extensive damage.
Differentiation:
We guarantee your estimate in 24 hours or we buy you dinner.

We have many Google 5 star reviews in metro Edmonton.

We have Workmanship Guarantees, meaning a thorough and complete background and full panel drug tests ensure our employees represent our high standards.

…and Clean Home Guarantees, meaning your home will be handled with care and respect, leaving it better than when we arrived.

…and Priority Service Guarantees, meaning we offer priority scheduling to our repeat customers. Call us and we'll get you scheduled in.

All service experts are fully uniformed, drive beautiful, wrapped trucks, and are happy to come to work.
Okay So What is The Downside?
We can 't fix everything, but we will tell you up front what we can do. Plus, because our service is designed to be the most thorough, it is not for everybody. If all you want is a quick in and out or cheapest cleaning available, there are plenty of companies that can help you. I will recommend one of them for you. But if you want a thoroughly cleaned experience, call us and get on our schedule!
Because of the above, we stay busy and will soon be
booked up, so CALL NOW. 825-343-3394
Related Articles