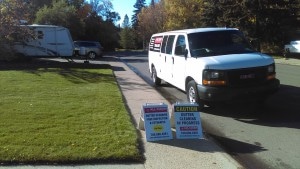 At All Clean Property Services, we strive to go beyond the obvious in order to solve our customer's challenges, improve and ease their lives. A testimonial from one of our customers, attest to this commitment: "The All Clean technicians were very friendly and did a very professional job. We had very dirty rain gutters and they came out sparkling clean. Our high windows were done with care and I am very pleased with how clean they are." Laura Hessel
At All Clean Property Services, we believe service is manifested everywhere your organization touches the customer; therefore, you must intentionally manage the service experience beyond the obvious customer \contact points. When a Customer selects one of our services, they will have already encountered a variety of touchpoints (defined broadly as any medium that engages with the customer). As an All Clean Property Services Customer, a touchpoint can be anything from a personal interaction with one of our Independent Contractors, Back end customer care representative , to functional items such as a "Gutter or Window Cleaning in progress" roadside signage, to the specific webpage design and online chat channel to create the efficient and cleanest experience. Where possible, our goal is to turn what might be an ordinary transaction into a more memorable, outstanding experience—for example, when you book for a service we come quickly and work hard to get the job done in the most efficient way.
Take a look around your organization and try to put yourself in the shoes of your customers. Are there some not-so-obvious touchpoints that could be "enhanced"? Implementing even small changes can impact your customers in a positive way, and can combine to make a solid investment towards creating your own unique customer experience and differentiating your brand.
Want to experience our service? Call Us Now!
We'd love to hear from you!  Post your response below, or respond to us on Facebook